Seco Feedmax Micro drills
SD22 and SD26 are a new range of small, highly productive solid carbide micro drills designed for applications in the automotive and medical industries, along with many users in small part production in the engineering industry.
SD22 is a pilot micro drill for drilling depth of up to 2xD. SD26 is a micro drill that can reach a drilling depth of up to 6x its diameter. Both drills are capable of delivering dramatic performance increases compared to traditional HSS drills often used today.
Main benefits:
Compared to traditional HSS drills SD22/SD26 deliver:
Much higher productivity
Much longer tool life
Higher hole quality
Lower cost per component
SD22 Pilot Micro Drill Features
Ø 0,1 ¨C 2,0mm - in steps of 0.01 mm
Drill diameter tolerance D 0/+0,005 mm
Shank Ø 3mm h6 tolerance
130¡ã Point
Uncoated
SD26 Micro Drill Features
SD26 is a micro drill suitable for 2 step drilling (in combination with a pilot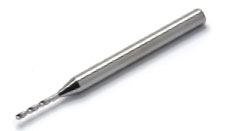 drill) or direct drilling of up to 6xD
Ø 0,1 ¨C 2,0mm - in step of 0.01 mm
Drill diameter tolerance D 0/-0,004 mm
Shank Ø3mm h6 tolerance
130¡ã Point
Uncoated